"Children return home in haste after school, Eager to fly kites when there is yet wind." Flying kites has been one of the favorite leisure activities of Chinese people since ancient times. Speaking of kites, "Kite Wei," one of the three unique characteristics of Tianjin, comes immediately to mind. In 2008, the techniques for making "Kite Wei" were inscribed on the National Intangible Cultural Heritage List, marking the first step century-old "Kite Wei" takes to go global. Kite artisans abound in China. Most of them took to and became obsessed with kites in childhood, which, over time, became their lifelong pursuit. Recently, the editor interviewed Wei Guoqiu, one of these artisans and the fourth-generation inheritor of "Kite Wei."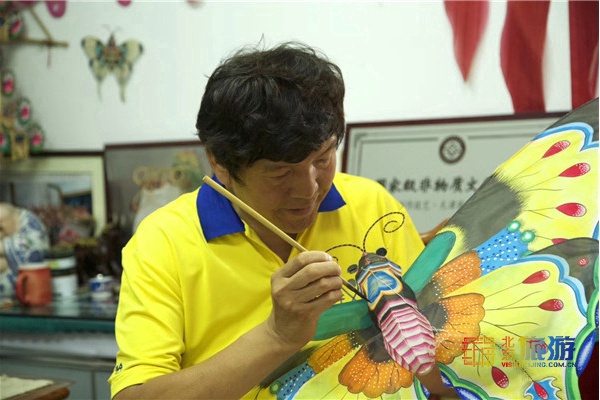 The store "Kite Wei" has a small, plainly decorated facade. All kinds of kites are hung on the wall. There is only one table, together with some chairs, for entertaining guests and a crafting table set with materials. The fifth-generation inheritor is making a kite. The fourth-generation inheritor Wei Guoqiu greeted us the moment he saw us. He asked us to sit down and then chatted away about kites while making tea.

A Family Tradition That Has Been Passed on to Five Generations

"Kite Wei" has a history of over 100 years. The first-generation inheritor was Wei Yuantai. Born into a poor family, he apprenticed in a festoon shop at the age of 16 and became interested in making kites. Wei Yuantai was deft and hardworking. During his apprenticeship, someone intending to challenge him asked him to make a ten-zhang kite. With great ingenuity, he made a centipede kite of that size. By the end of his four-year apprenticeship, he had learned how to make festoons, kites and other small toys. His father opened a festoon shop in Dongmenli Street for him and named it "Chang Qing Zhai." That was where and when his kite-making career began. While making ordinary festoons, he carefully and repeatedly observed the proportion of the body of flying animals such as dragonflies, butterflies, eagles, and swallows to their wings and the way they fly. Then he studied them thoroughly so what he learned could be used in making kites. Every time he set about making a kite, he would take painstaking efforts, make test flights repeatedly and improve it bit by bit. Now the fourth-generation inheritor Wei Guoqiu oversees the "Kite Wei" brand after the second-generation inheritor Wei Shenxing and the third-generation inheritor Wei Yongchang (who was awarded the title of Master of Arts and Crafts by UNESCO).

He is engaged in only one thing; he never did another job

Wei Guoqiu grew up in an artistic home environment. He began to learn painting at the age of 6, and formally learned kite-making techniques from his grandfather Wei Shenxing and father Wei Yongchang at the age of 12. However, he did not stop there, doing further studies at Tianjin Arts and Crafts Vocational College and working in Tianjin Arts and Crafts Factory in 1982. In 1997, the factory was closed down. Without any source of income, he relied on his relatives for a living. The kite making business was in recession back then, but he did not give up on this craft and, instead, studied kite making even more intently.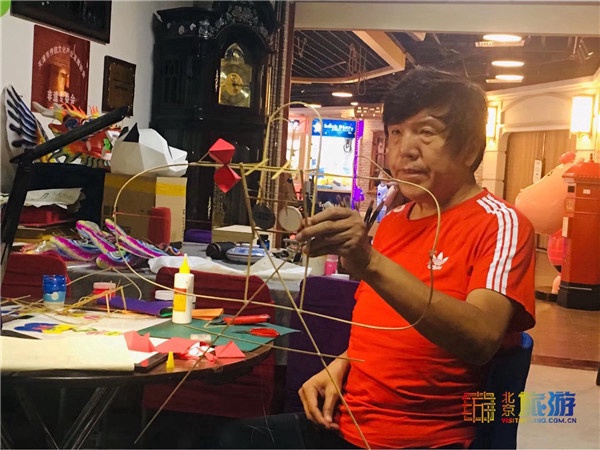 He inherited the traditional handicraft at "Wei's Kite Workshop" in Chang Qing Zhai in an all-round way—hard at work assimilating the very best of traditional kite making techniques. Wei Guoqiu said, "Select raw materials are key to a good kite. It requires the skin of moso bamboo from Fujian that is over five years old and that has been dried in air, for this part is flexible and can be easily shaped after being baked over fire. In contrast, the "interior" of moso bamboo is hard and prickles may appear when it is shaped. Kites are bilaterally symmetrical, so a bamboo strip is often split in two halves. Even the slightest inaccuracy can lead to asymmetry. Therefore, it takes superb craftsmanship to make a kite that can fly steadily."

Splitting bamboo normally takes one year of practice. This is a process to prepare the base frame of the kite. What makes Wei Guoqiu's kites stand out is that the base frame is a three-dimensional structure commonly used in traditional furniture. In this structure, the end of a piece of bamboo is cut to fit into a mortise so that the two are held together—no needle or stitch is needed in the process. The base frame is full of mortises, and tenons are used to hold the overall structure together. It can be folded or stacked, and is convenient to carry. The base frame is of various designs. Besides the flat type, it uses bow, solid and cascade designs. Real-silk thick fabric is pasted on it, and the kite's innovative detachable structure makes it easy to pack it into a small box. Sturdy tough silk, non-woven fabrics, and tough paper that do not lose color and are pervious to light are opted for as the painting cloth. These properties make the flying kite lifelike. The painting techniques of double-line outline drawing and color reduction render the picture in air as graphic as one at hand. As a rule, one runs while flying a kite. This, however, is not the case with Kite Wei. The direction and magnitude of wind is the most important parameter to take into account when flying a kite. A light breeze requires a corresponding kite and a gentle breeze requires a corresponding kite, too. One just needs to stand where he is and tighten and loosen his grip alternately to make the kite fly.

The kites made by Wei Guoqiu are lifelike. They won first place in the 1982 National Kite Flying Competition. In 1983, Wei Guoqiu won first place in the Tianjin International Kite Meeting. In 1993, Wei Guoqiu won first prize at the Chinese Folk Art Fair. In 1994, Kite Wei was nominated as one of the best folk arts in China. He was also awarded the title of "Master of Folk Arts and Crafts" by UNESCO. His kites can not only be flown, but also be admired. They are practical and a valuable item for collection. His kites are both traditional and modern. They are diversified in design, lifelike, stunning, stable, morally inspiring and innovative. His "Drum-Gong Geese" kite can produce melodious music in air. "Flying Eagle," "Dragon-Eyes," "Crab" and "Longevity Crane" are his representative works.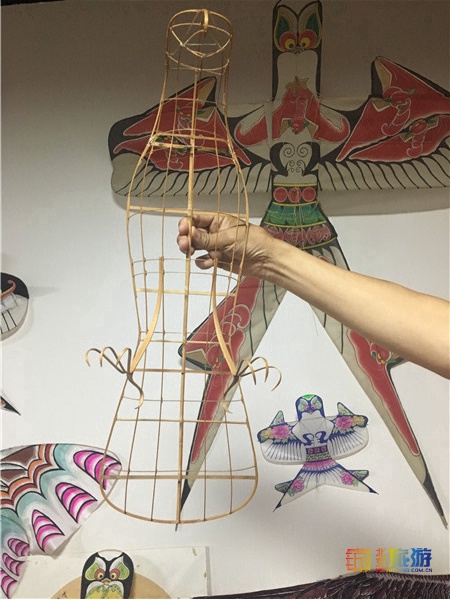 The demand for Kite Wei exceeds supply. It is exported to many countries. Wei Guoqiu once considered partnering with a foundry or a kite manufacturer so he could concentrate on upstream processing and leave downstream process to other manufacturers. He contacted many factories, all of which declined to cooperate with him, saying, "I'm afraid our techniques are not up to your standards." As a result, Wei Guoqiu and his family had to make all Kite Wei products by hand—without the assistance of modern equipment or the help of any foundry. Wei Guoqiu proudly told us: "I have never done a second job in my life; this is the only thing I do in my life. Our production technology and painting workmanship are world-class! "

Innovation Keeps Kite Wei Abreast with the Times

While inheriting traditional kite manufacturing techniques, Wei Guoqiu keeps abreast with the times by continuously improving techniques and launching kites that suit modern needs. Most kites used to be flat, but now they are replaced by those with a protruding middle part, which makes them more perfect and lifelike. The base frame of Flying Eagle has been improved; its shape is more lifelike and it can hover at a certain height. Most interestingly, Wei Guoqiu invented the indoor Tai Ji kite, which can be flown indoors and requires less space. With this kite, office workers and students can do a set of exercises and move the cervical spine, waist and legs. This kite is often snapped up at trade fairs.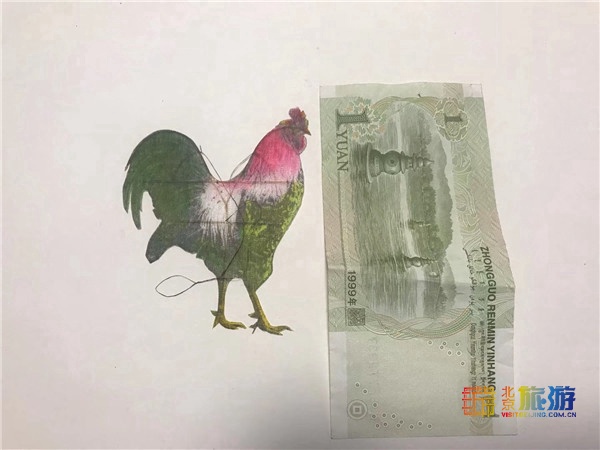 According to Wei Guoqiu, new ideas should come with the new era, the old crafts should not remain where they are, and they should be innovated so as to meet the needs of the youth. In this way, more people would want to learn and inherit traditional cultural heritage.

Promotion of Excellent Traditional Culture through the Imparting of Kite Making Skills

Wei Guoqiu is very busy now. In addition to making kites, he spends most of his time promoting and teaching kite making skills. He gives free lectures at primary schools, secondary schools and universities. He goes to some schools on a regular monthly basis to cultivate students' interest in kite making and to promote excellent traditional culture. His studio offers a kite DIY course, where the whole kite-making process is introduced so more children can join. He said: "Children will wonder how kites can fly, how traditional kites are made, why there are bends, what materials are used, etc. The children become more interested, their manual dexterity is improved, and they show more readiness to understand traditional skills in this process. I'll teach the kids as long as they like it!"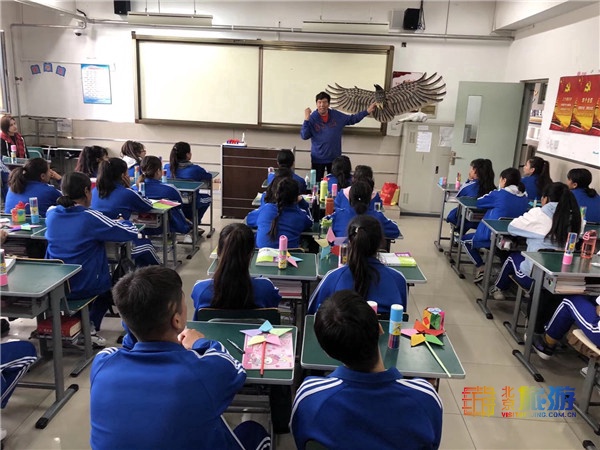 For now, Wei Guoqiu runs only two stores in Tianjin so he can prevent others from illegally using the brand "Kite Wei." He does not sell his kites online. Interested customers can get the kites they like by mail. He said, "I do my business in this way to protect the reputation of Kite Wei. I must prevent fake kites from reaching customers. Spoiled reputation can mean the end of this traditional craft and the inheritance of it." Wei Guoqiu's craftsmanship spirit to concentrate on one thing, push back its boundaries and carry forward traditional culture has greatly enhanced the reputation of Kite Wei!